Personal Development
What does personal development mean to you?
Improving self esteem
Learning to value and respect yourself
Learning about who you are and what you want from life
Learning how to improve communication with yourself and others
Learning about yourself can be exciting, and maybe even a little daunting or confronting.
At Zenith Performance Coaching, we are there for you. Because we want you to experience a sense of possibility and empowerment, we offer a variety of ways in which you can develop your strengths, recognise your stretches and learn how to discover what makes you "tick".
"Your thoughts are the architects of your own destiny." David O. McKay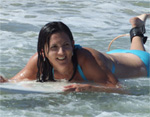 "Why wait until you're dying to find the will to live"